Road trip to western coast had many unique things. First time I road my car between Chennai and goa covering about 2500+ kms in 7 days. We travelled cutting across national and state highways, ghat roads, driving on the banks of Cauvery river and adjacent to beautiful beaches. Natural hot spots became our camp sites, waterfalls our bathing place, forests our home and beaches our relaxing expanse.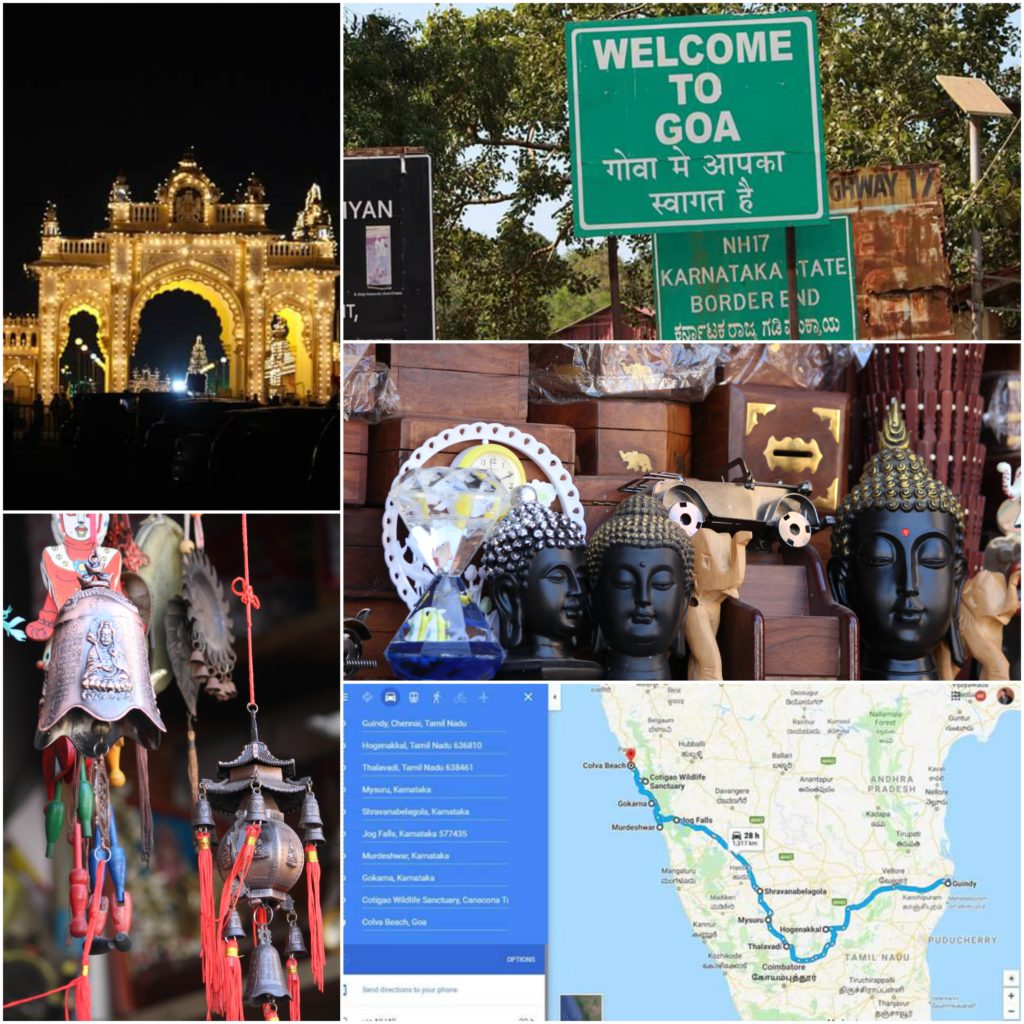 Road trip in a nut shell:
Day 1 – Ride from Chennai and camped at Pennagaram.
Day 2 – Bath and coracle ride at Hoggenakkal waterfalls – Jungle safari inside Thalavadi range of Sathyamangalam tiger reserve.
Day 3 – Drive to Shravanabelagola and camped in a tent on top of Jog waterfalls
Day 4 – Exploring Jog falls, drive to Murdeshwar. Enjoying beaches with water bike rides and camping in Gokarna.
Day 5 – Entering Goa – trekking and exploring Cotigoa wildlife sanctuary – night fun at Colva beach.
Day 6 –  Drive back to Mysuru – morning bath at Apsarakonda waterfalls – relishing typical lunch in Mangalore. Night ride from Madikeri to Mysore. Stay in Mysore
Day 7 – Bird watching at Ranganthittu bird sanctuary. Drive from Mysore to Chennai.
Hoggenakkal waterfalls – beauty personified:
Rightly christened as Niagara of south India Hoggenakkal waterfalls is a splendour lying on the laps of Nature. Cauvery river flows through rocky hills and drops inside a huge gorge making it a delight to admire. Beauty of the waterfalls and the coracle ride are gift to every nature lover. We had refreshing dip at cine falls with natural fish pedicure refershing us.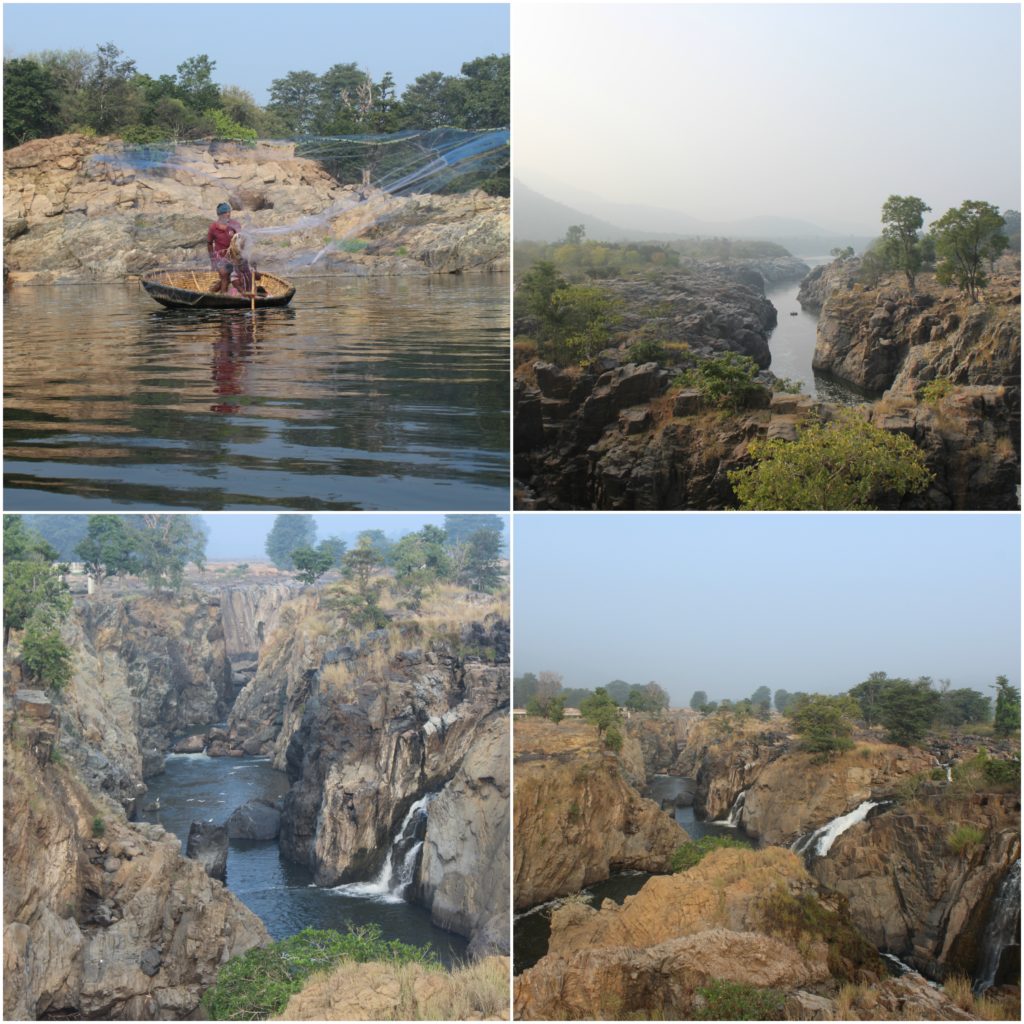 Sathyamangalam forest and Jungle Safari:
Drive from Sathyamangalam via thimbam heading to Thalavadi forest range spiralling through several hair-pin bends and thick lovely woods made me realise the mightiness of this beautiful forest. Although the Jungle safari was not worth for its money. The forest, animals and experience of being inside thick jungle made me take a vow that I should return back to this wildlife treasury and explore it thoroughly.
Shravanabelagola:
On top of a rocky hill stands tall the gigantic monolith statute of lord Bahubali a popular Jain pilgrim destination. The beautiful temple pond quietly tucked in the centre between two hills Vindhyagiri and Chadragiri offers excellent views from top of the hills. A great place to be at ease, mediate offering 360 degree views of the plains.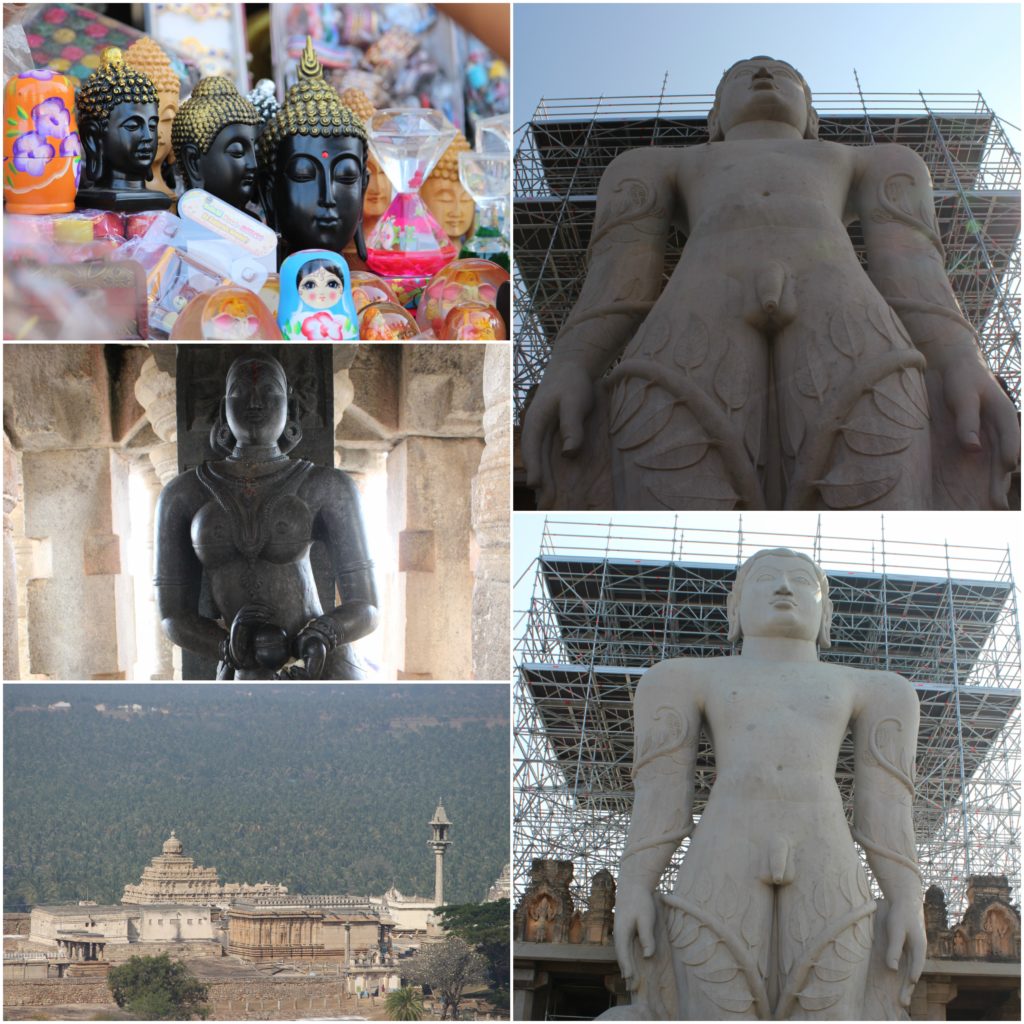 Mighty Jog waterfalls:
From the mighty man made monolith statue to mighty nature made Jog waterfalls it was mightiness unfolding in front of us everywhere. Before we could get out from man-made beauty nature delighted us with a falls which appeared as if water was dropping directly from the sky.
We camped on top of the Jog waterfalls under the light of glittering stars, bright moon with blue sky as our roof. Sound of the waterfalls dropping down on such a beautiful night made me realise that it was the best night of the trip. My heart is still floating around this waterfalls. Peace.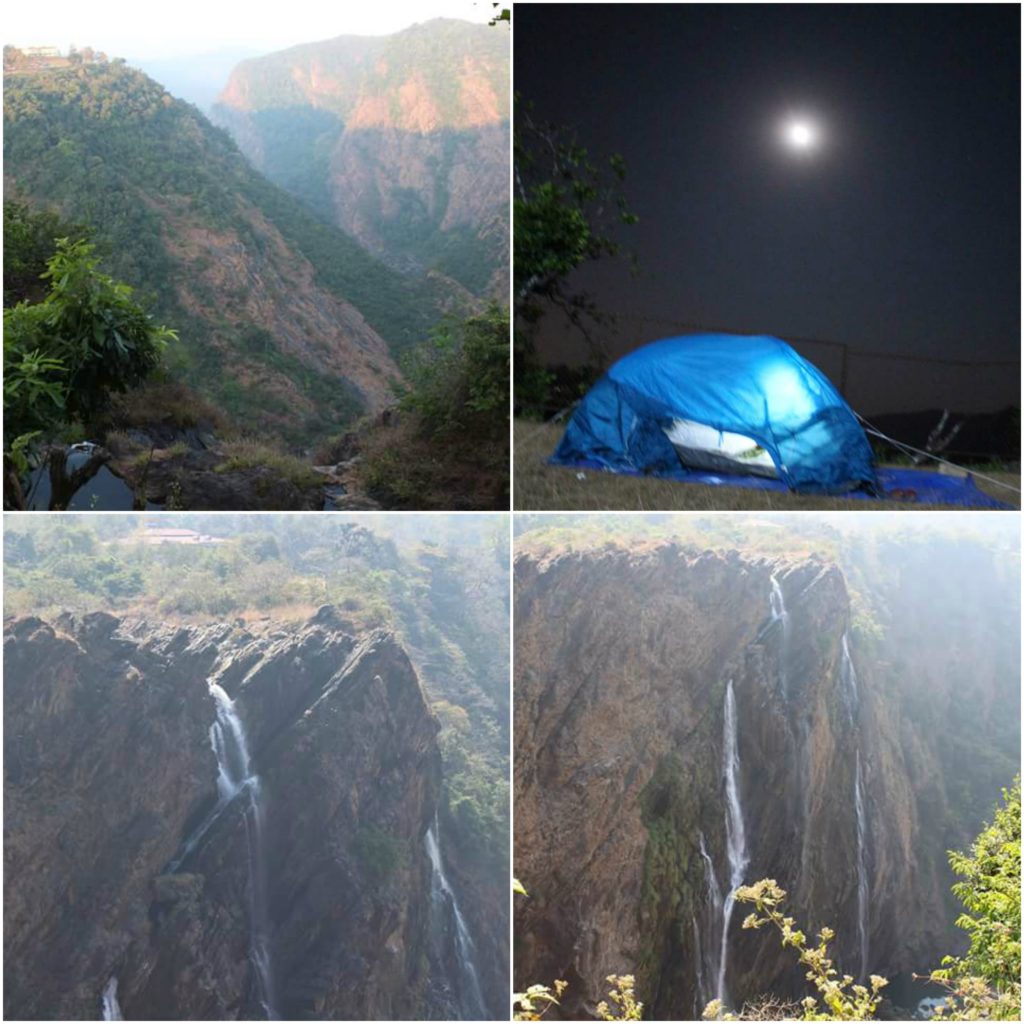 Murdeshwar and western coast:
Soft sand of murdeshwar beach, calm sea, gentle touch of the waves, and the adorable statue of lord Shiva – Murdeshwar is not just a tourist place it is a living epitome of Shiva himself. Drive along the coast with one side nestled with thick jungles and another side bordered with scenic sea – the beauty of western coast was completely exposed here.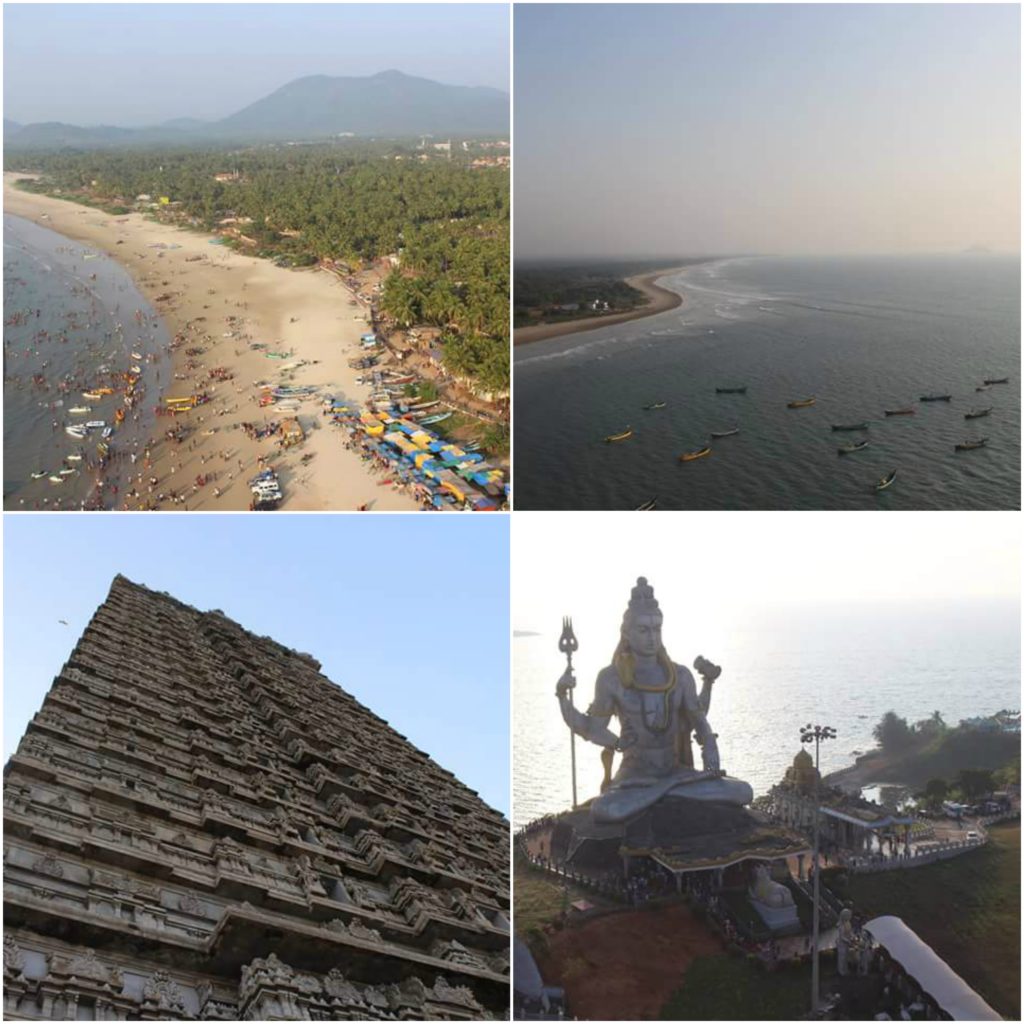 Cotigoa wildlife sanctuary and Colva Beach:
Cotigoa sanctuary welcomed us the moment we entered the land of beautiful beaches – Goa. We walked inside the thick woods, spotted many birds, deer, lion tailed monkeys. On the eve of New Year, Colva beach was gushing with full of happy people who were all geared up for celebrations. The beach sported a complete party look with youngsters singing and dancing on the sands of beach.  This night was fresh and young.
Apsarakonda waterfalls:
While returning from Goa we dipped in Apsarakonda waterfalls a lovely place to refresh. The view-points from this hills throws open the beauty of the western coast to everyone. A great place to take a break while driving to goa on the western coast.
Mysuru and Ranganthittu bird sanctuary:
Mysuru always brings in a sense of warmth and quietness within me every time I visit this beautiful city. The majestic palace, clean roads, cold weather and warm people – it is a city of blissfulness. I have visited Ranganthittu bird sanctuary many times and had the wonderful opportunity to run in the Kaveri trail marathon along the banks of Kaveri river. Ranganthittu bird sanctuary definitely is a paradise for bird watchers.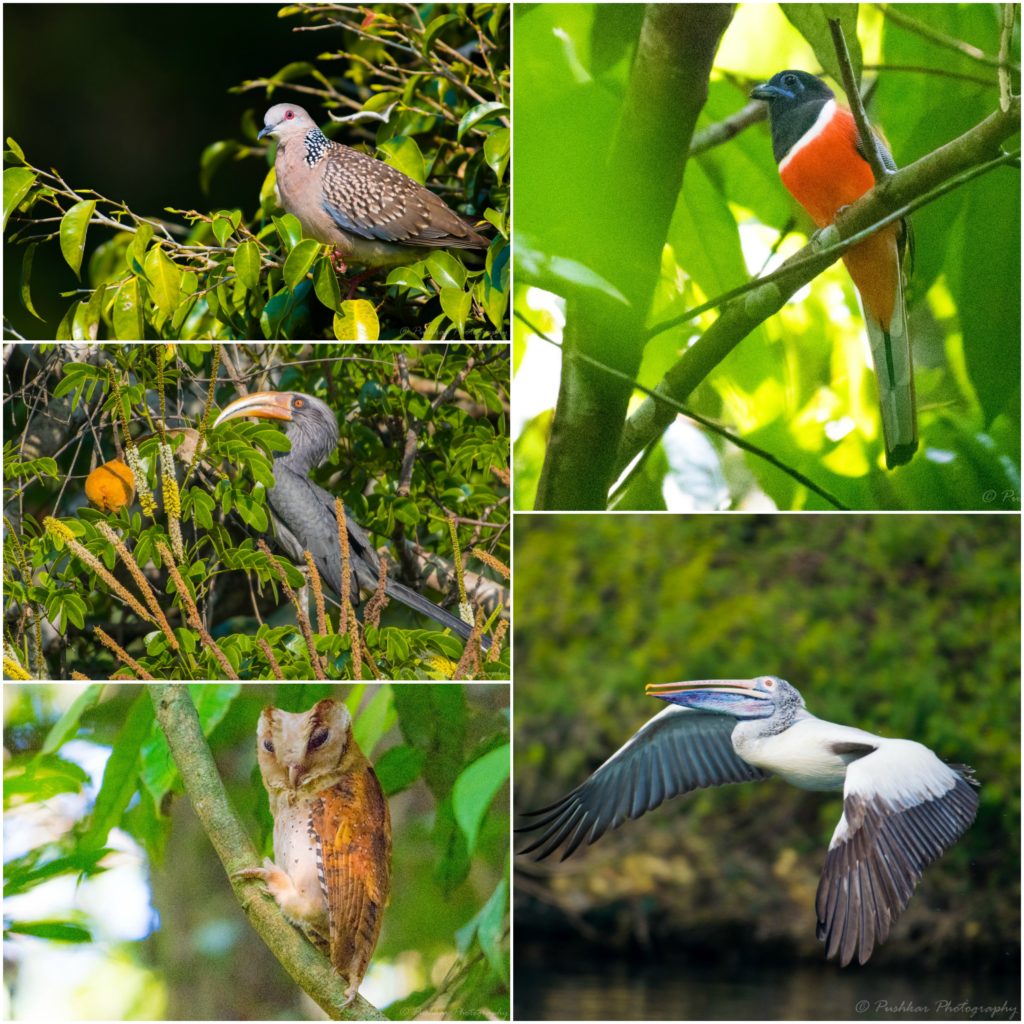 Six days of driving my car through the Western Ghats, state highways, coast line and inside dense jungles with like-minded outdoor loving friends will always remain fresh in my heart as a joyful trip.
Durai Murugan
Pic credits: Pushkar and Dinesh
{ 1 comment }