Peacefully lying in the Eastern Ghats 'Araku valley' is one of the most beautiful, picturesque and enchanting mountains in South India. Urbanisation and tourism has not significantly encroached into this region and the valley still remains rich with natural hot spots and beaming with tribal activities. Unpolluted rivers, crystal clear waterfalls, exciting rock formations, humongous caves, brilliant valleys, tribal culture and pleasant weather keep striking my heart whenever I think about this paradise.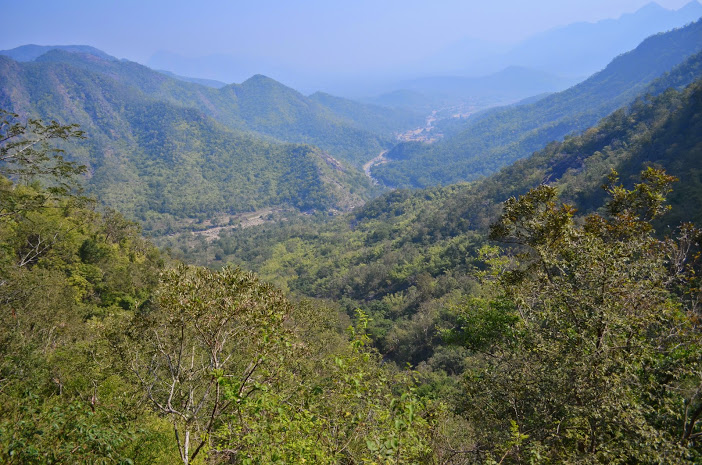 Bora caves – The Biggest Caves I have hitherto visited:
I have seen many caves in the western and eastern ghats and always believed that caves are smaller in size (although heard of huge caves) until for the first time in my life I witnessed this mammoth and gigantic cave tucked inside the Anthagiri hills. It was around 2 p.m in the afternoon and the sun was shining bright and the weather was little hot but the moment we entered this gigantic caves the temperature dipped and chill breeze welcomed us. It was a like a mini indoor auditorium dug deep inside the earth – my hitherto imagination about the size, shape, design and idea about caves were completely shattered and I entered into the caves admiring the beautiful rock formations, and the grand natural interiors.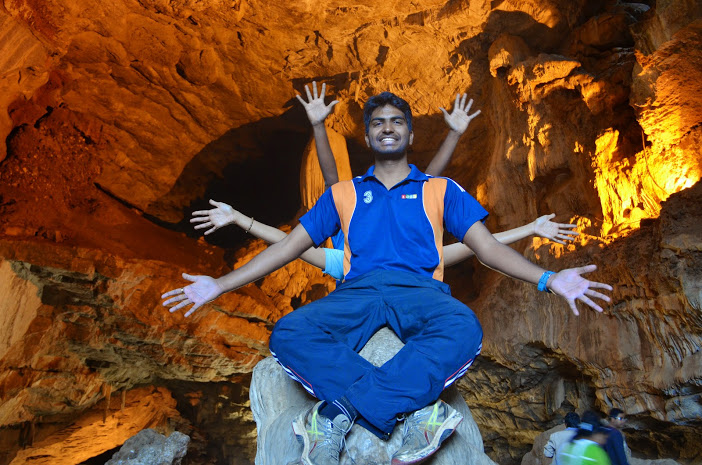 Train to Arakku Valley – Kirandul Passenger
It is highly recommended to reach Araku valley by train since it cuts through 50+ tunnels, 80+ bridges, beautiful valleys, picturesque landscapes and gorgeous mountains. As travellers pass across these tunnels one will witness the grandeur of waterfalls dropping just near the train and also the jaw dropping beauty of this valley. The passenger train starts from Vishakapatnam and passes through Araku valley and finally reaches Kirandul, normally in India it is difficult to find broad gauge trains running on the hills therefore, when this passenger train hits Shimiliguda station it is considered as the first highest broad gauge station constructed in India and gains significance. Although the purpose for laying this broad gauge is to quickly plunder the natural resource in Orissa and not primarily meant for human transportation.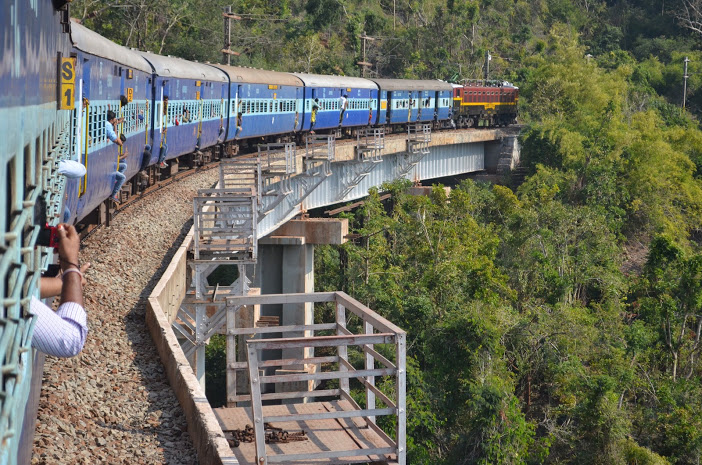 The four hours journey in this train to reach Araku is a celebration and jubilation time for the passengers – for every time the train gets into a tunnel the entire crowd applauds with joy and celebrates the journey. Never for a minute during the journey uphill will a passenger feel bored, because of the ever changing terrain and attractive natural sceneries keeping the traveller highly engaged.
Cascading Waterfalls and beautiful Rivers of Araku:
Although natural caves and train journey delight the travellers to Araku yet another feather that glorifies this paradise are its beautiful waterfalls tucked deep into this valley and refreshing rivers which flow into this valley. For most of the time in the year the water remains very cold and a dip inside the cold river not only refresh the body but also rejuvenate the soul. There are numerous waterfalls in this valley few of them named and open for public like Thatiguda, Katiki, Chaaparai and many remain out of the reach of a common tourist and invites explorers.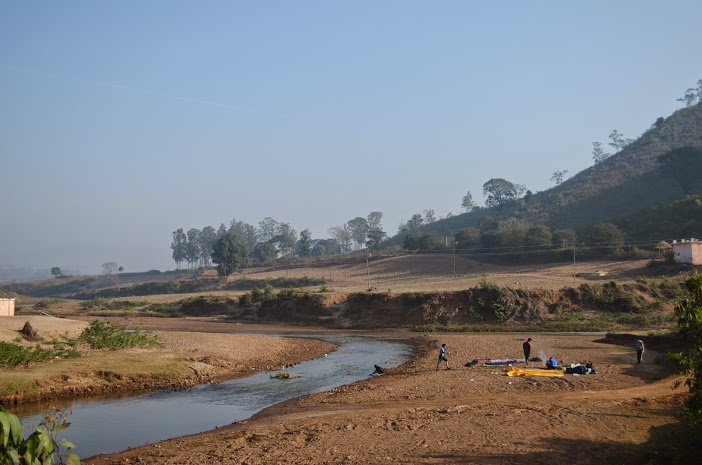 A paradise for Camping lovers:
Araku can be perfectly termed as a camper's paradise for its numerous beautiful places which attracts campers to pitch their tents under the starlit sky and enjoy a very cold night. Beautiful moon brightening the sky, innumerous stars twinkling alongside the moon, freezing cold night, beautiful river running on the side of your camp are some of the most precious memories which will remain engraved in my heart for a lifetime.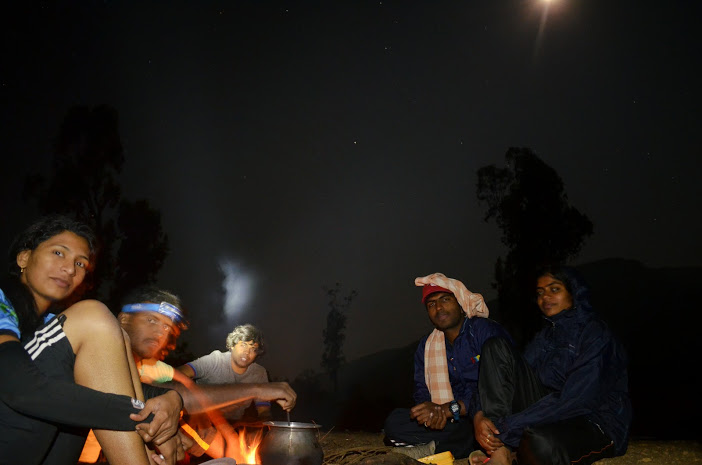 Nut Shell – Arakku Valley back pack travel from Chennai – (24 -26.01.2015)
If you are looking for the snap shot of our trip to Arakku valley – here it is for your information.
Day 0 – (Friday – 23.1.2015) – Board Bhuvaneshwar train at Chennai central railway station at 21.10.
Day 1 (Saturday – 24.01.2015) – Alight at Vizag at 10.30 a.m and board a bus to Anthagiri hills
Visiting Tadimada Waterfalls and Borra Caves
Situated in Ananthagiri hills, the Borra caves are at a height of 900 meters above sea level and occupy an area of 2 sq. kms. The caves are filled with fascinating stalagmite and stalactite formations of calcium deposits. The Gosthani River flows through the caves between the formations
Katiki Waterfalls
This is a 120+ feet high cascading waterfall that has to be reached by 20-30 minutes trek (one way) through lush green forest. Day 1 – night travel to Vizag and stay near Railway station.
Day 2 (Sunday- 25.01.2015)
Board the train from Vizag to Arakku and enjoy the tunnels, waterfalls, valleys, and wonderful climb in passenger train uphill.
Reach Arakku valley, explore chaparai waterfalls and neighbouring places and night camping at the base of Jindhagada peak
Day 3 (Monday / Republic day – 26.01.2015) exploring Arakku Valley
Trek to Jindhagada peak (highest peak in Eastern Ghats) or Barejolla peak
Our travel and camping plans:-
Camping underneath the starlit sky;
Travel in public transportation (bus / train)
Either cook our food or have food at tribal huts / hotels.
Wherever possible walk and trek to the destination rather than going in vehicle.
Share the expenses among the total number of heads in a transparent manner.
Day 3 night board in VSKP Super Fast Express train from Vishakapattanam at 19.10
Day 4 – 27.01.2015 – 8.45 a.m arrival at Chennai Central and hit to work.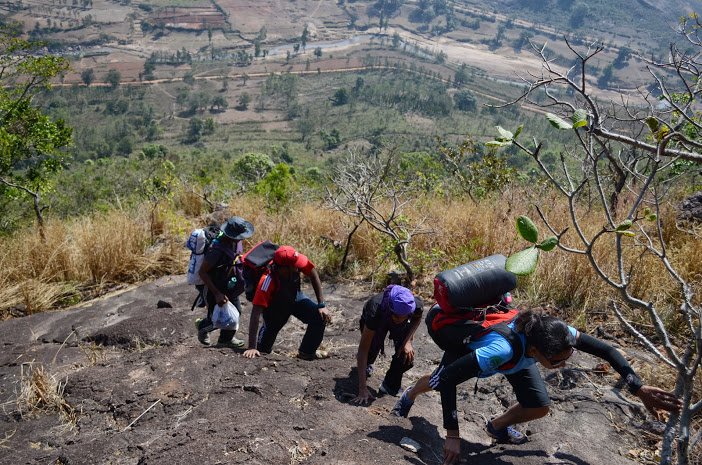 Happy travelling,
Durai Murugan