Bored with office work and tired with the blazing sun in Chennai. I decided to escape from the concrete jungle and trek in the Western Ghats to enjoy the pleasant weather, chill nights, thick vegetation, beautiful landscapes, freezing water and to reach Kodaikanal through foot which I was dreaming to complete for a long time.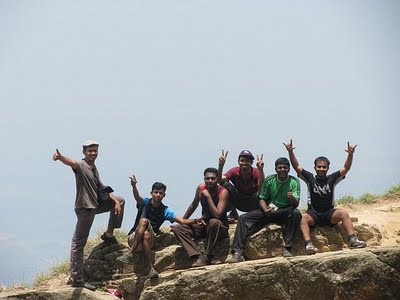 Didn't want to trek alone, therefore, invited couple of my friends who were interested in trekking and were also equally bored with city life. Sent an invitation cautioning the daring souls to get lost into the Western Ghats; enjoy its beauty; fall in love with the charming weather; getting wet in the rains and shiver in chillness almost all of whom I invited were equally interested to join me in this expedition.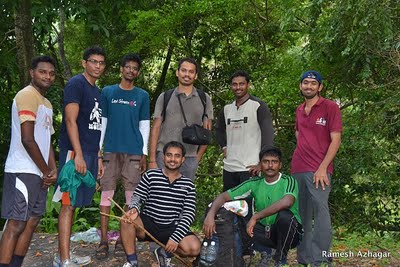 The trek starts from Kumbakarai at 400 mts altitude to Kodai at an altitude of 2,200 mts above sea level. The plan is to start hiking early Saturday morning (14.05.2011) and hit Vellagavi village at 1,300 mts altitude and from there proceed on Sunday (15.05.2011) towards Vattakanal / Dolphin nose and from there to Kodaikanal at 2,200 mts altitude. If planned for one day this is a hard core trek and if spread across two days it is a moderate trek.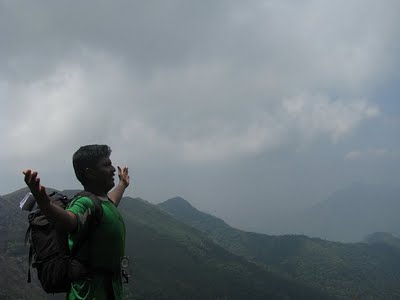 A word about this trail
This trail has got historic significance since this was the walking track up to Kodaikanal in the late 18th and early 19th centuries used by the westerners before the present roads came to usage. So this is a privileged and prestigious route to trek. The distance is around 20 kms in rough terrain. Except for the Vellagavi villagers hardly any other people use this trail to reach Kodaikanal. There are not much deviation points and with the help of a compass and Google map and cross referencing both one can easily navigate this trail.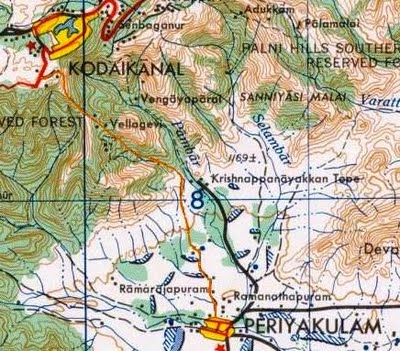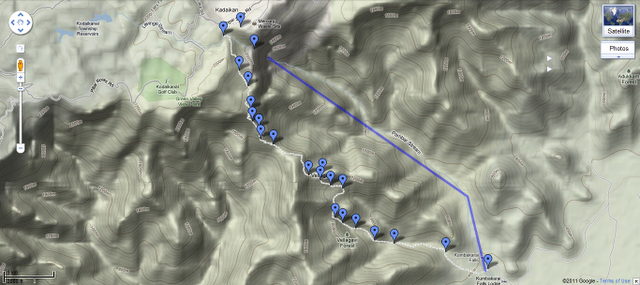 Day 1 – Astounding climb and camping in a hamlet
The trek started from Kumbakarai falls which is very popular local tourist spot. The entire place was crowded with localities since it was a weekend, we also mingled with them and took bath in the water falls and the sliding pool which is located 200 mts from the main falls. Chill water flowing from Kodaikanal valley gave us the refreshment for the day.
The sliding pool and the water in the gorge rejuvenates' once body, mind and soul and acts as a perfect booster. Cleaning our body and freshening up our spirits we started our trek towards Vanathi Oodai (washer man stream). After 30 minutes of trek we reached Vanathi Oodai and decided to rest and have our lunch here. After spending few hours in the water and having our lunch we again started our trek.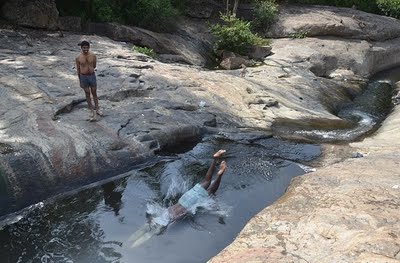 From Vanathi Oodai the inclination starts gradually and there is no flat walk till Vellagavi except for few places. The trail is very clear and there are no much deviation points except for few over grown bushes here and there. As you start climbing you will feel the change in the weather, probably, that makes Kodaikanal a special destination to trek.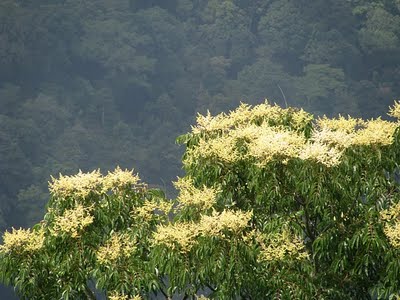 The views on the way towards Kodai is amazing at times you will be walking on the side of the mountain which will create fear and at the same time thrilling as if you are going to slip down any moment into the valley. One can easily see the Vagai dam while trekking towards Vellagavi. The tall trees, chill breeze, beautiful landscapes, the grasslands and the wonderful camaraderie made the trek more special to me.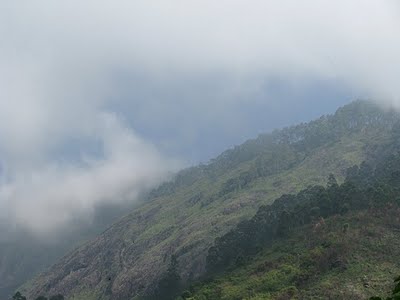 Vellagavi a very peaceful and serene hamlet in the Kodaikanal Mountains surprised us with unexpected hospitality by its residents. Vellagavi is located at 1,300 mts altitude. Nature has gifted this hamlet with very pleasant weather, the villagers consider their village as holly place and restrict everyone from wearing footwear inside their village.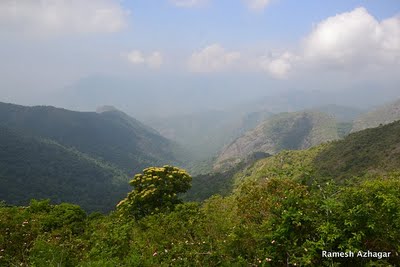 After reaching Vellagavi we went for a walk inside the village and spoke with many villagers, played with the kids and exchanged some worthy conversations with those innocent people, who love their place and cherish their secludedness. I suggest anyone who wants to relax and stay away from the stressful city life to visit and stay in this lovely place for few days and I am sure you will come back as a rejuvenated soul forgetting all your stress.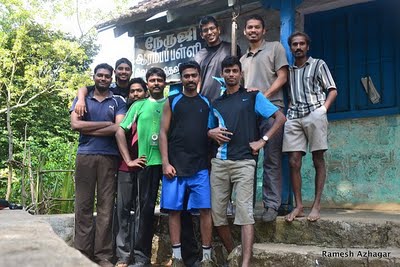 As planned we halted the night in Vellagavi and prepared and had our food. The villagers offered us a house to stay but we politely refused to stay since we wanted to sleep outdoor and we choose the primary school veranda and slept under the sky watching the glittering stars twinkling around. The mercury dipped as the night fall and we enjoyed the chillness and the outdoor squeezing ourselves into sleeping bags.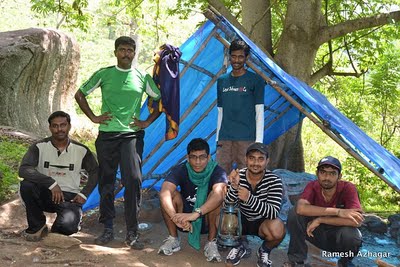 Day 2 – Breath taking views and hardcore hiking
The previous day another friend of mine called me to inform that he is going to join us in Vellagavi so I had to get up very early in the morning and had to catch him in Vanathi Oodai. I started running from Vellagavi downhill and met my friend few kilometers away from Vanathi Oodai and from there we both started hiking at a very high speed since we had to reach Vellagavi and from there to Kodai. The other group was preparing maggi for their breakfast and gearing up to trek the remaining distance to hit Kodaikanal. After few hours of non-stop hard core hiking we met the other group which was heading to Kodai from Vellagavi. We had our breakfast at Vellagavi and started trekking towards Kodai.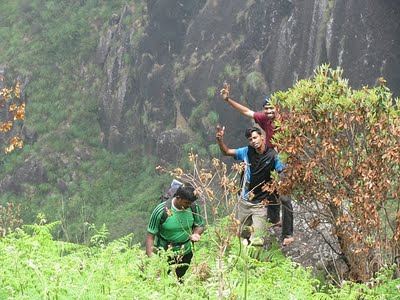 The hike towards Kodaikanal from Vellagavi is astounding and never fails to offer great views. There are no deviation points and one can blindly follow the trail, I enjoyed the hike especially of the refreshing climate and the brilliant views of the valley. The entire valley was covered with thick green blanket and the flowers blossoming throughout the valley, we took regular breaks to enjoy the hike and to enjoy the unpolluted, human less environment.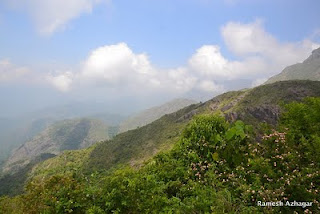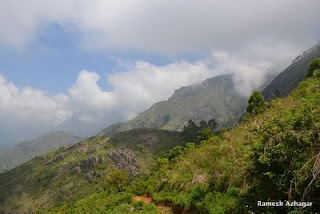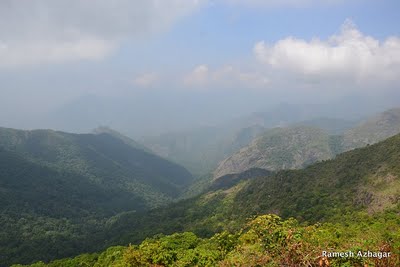 After reaching an altitude of 2,000 metres we reached the "Echo rock point" which offered us some beautiful view of the valley below and also the famous dolphin nose which offered us splendid view since there was very less mist we were lucky enough to enjoy the breath taking views amidst chill weather.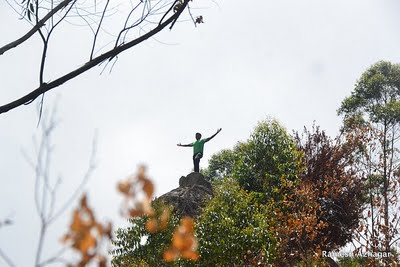 Few more kilometers of hike we reached Vattakanal and from there we reached the Pambar falls, few of us took bath in that freezing cold water as we completed our trek successfully, although we were tired physically, mentally we were extremely fresh and achieving the target safely everyone felt extremely delighted that they made to kodai through their legs, this sense of achievement and feeling of goodness was palpably visible in everyone's face.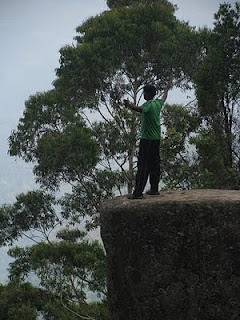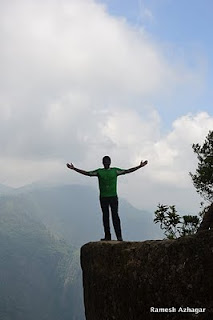 To sum up, this trek will be cherished by the participants for the adventure, fun, camaraderie it offered to us. I am sure that this trek ignited the passion for trekking among few who were new to treks and joined this Kodai mission.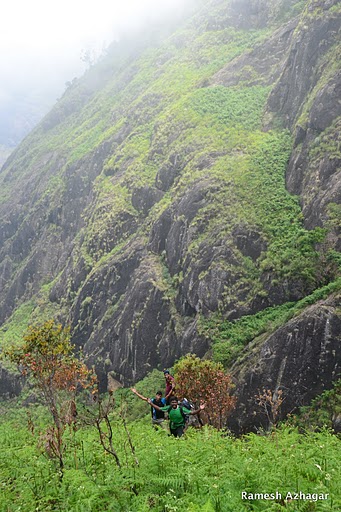 Happy trekking,
Durai Murugan