Recently, I joined Toastmasters club at my work place and time came when I had to deliver my first speech and it was supposed to be "The Ice Breaker", wherein I have speak about myself. Quickly, I scanned through what all happened in my life hitherto and delivered my speech. Here is the script of my speech.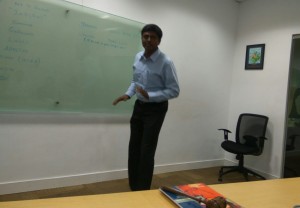 "At the end of my comfort zone"
I was studying in 7th standard at school and a new volley ball coach was appointed to train students in volley ball. Very soon the coach earned a notorious reputation of being torturous in the ground. To give you all an example, one of my friend who joined the training left our school in two weeks of coaching. He was that strict and the training was very painful.
The coach had the habit of standing at the school exit gate and hunt for tall guys. Unfortunately, I was little over grown by then. After school hours I used to be terribly scared to pass through the gate. Whenever, I see him at a distance I used to limb, similar strategy was adopted by my friends to. Imagine all tall guys limping towards the exit gate, my school literally looked like a school for handicapped students.
My tricks with him did not last longer and I was caught one day and he pulled me into the ground. I began counting my last few days at my school. With the fear in my head I went to the volley ball court. The coach made us run 4 rounds around the ground and squeezed out the last drop of water in my body. My thought that I will leave the school became very strong. At the end of the session he told us "don't be normal and regular students who come to attend class, study, do homework and move out of school to just become an engineer or a doctor". He said "Come out of your comfort zone, your life starts there".
That night my body was paining like hell – so was my mind it had sank in the words of my coach "Come out of your comfort zone".
After two weeks my school life became from "good to great". I slowly moved out of my comfort zone and started practicing regularly. After two years our school team started performing well and we won state level volley ball tournaments and I represented state of Tamil Nadu in national volley ball championship and TN stood third overall. I slowly but firmly started realizing that success lies at the end of your comfort zone.
After few years my 12th results came and I went to my Dad – I asked him what course can I join – before he could even advise I suggested can I become an engineer or doctor. He starred at my face and said you will get into Guinness book of record if I get an admission after taking up commerce group (now you can imagine my academic level at school).
Finally I wrote law entrance and got a seat in SOEL. I was wondering what am I going to do since there was no one in my family who had taken up law as their profession.  During the 1st semester we had a history professor who didn't have legal background. The prof. used to speak brilliantly and once he said in loud voice "hang the judges in the nearest lamp post and dump the lawyers in the next ditch – for no one knows law". This speech of him gave me confidence and I recollected what my coach said "At the end of my comfort zone". I took up legal education seriously and passed out with a distinction (above 70%).
Finally, I ended up in corporate job (thanks to my master in business laws), I felt I was leading a very comfortable life and soon I started realizing that laziness is slowly settling within me, that time I realized some of my friends trekked during weekends and explored natural forests. I wanted to explore south Indian forests but how do I enter forests? / Who will guide me inside? / is it safe to trek? – Several questions popped within me.
I ventured inside the forests and I got lost many times inside forest but very quickly I learnt how to navigate using GPS. Now I can confidently claim that I can enter and exit any south Indian forests without anyone's help. I recalled my VB coach words "At the end of your comfort zone" life starts.
The journey didn't stop there I further noticed that my friends are running long distances and many of them are running marathons (42 kms), I couldn't sit in my seat and watch their updates anymore. I wanted to make an attempt, every day after work I started my run – walk – run starting from light house to high court after few weeks I got used to that distance and in 2012 Chennai marathon I completed my first full marathon. Once again I recalled the words, "At the end of your comfort zone", life begins.
Recently I landed up in Vodafone were I attended a club which finds happiness in making everyone to talk. I don't know what mistake I did, on the very first day under the guise of making me talk they made me to stand in front of the club members – I literally had no idea what to talk that I stood there for 45 seconds without uttering a single word I walked out saying only "Thank You".
I was wondering like how I used to do in school times, if I should hide from Mr.Athma every Friday or Thursday – but my friends I self-realised that "At the end of my comfort zone" there begins a new journey. Toastmasters here I come.
Durai Murugan