I label myself as a solitary runner, who enjoys the late evening running bliss to complete a good day. It was in the year 2012 at the Chennai Marathon I lost my virginity to become a full marathoner and I exclaimed that completing my first full marathon is the 'Supreme Feeling' I have ever felt in my life. Hard to realise that one-year ran off like a Kenyan marathoner and I had also run in different cities, hills, trails and around temples. I feel indebted to Chennai Marathon for sowing the seeds of running in my heart. I pledge to run more, trek blissfully, live strong and healthy and listen to the music of this wonderful life.
I trained my legs and prepared my mind for the largest running Kumbha mela Chennai city was ever to witness – The Wipro Chennai Marathon. The city was not only drenched with showers of rain but also from the sweat of running souls – not a few drops but with mighty waves. The simple presence at the starting line with a few of the most energetic souls heightened my senses and all I was able to feel and realise were high levels of positive energy bursting from my fellow runners. Thus, I sprang like a fawn from the starting line forgetting the lengthy course ahead of me.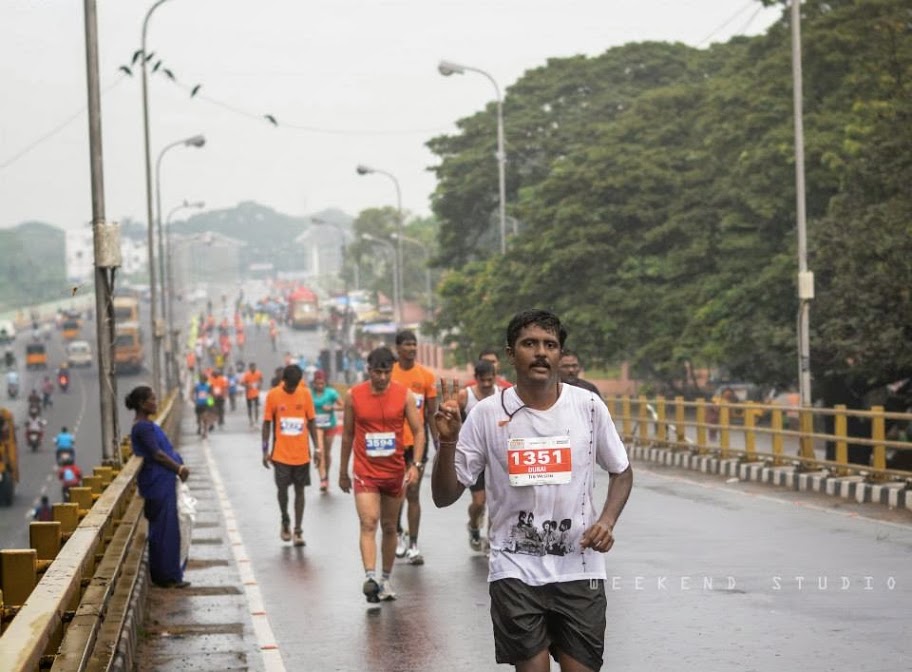 Downpour or Drizzles – Legs don't stop:
At around 5.30 a.m the murky clouds opened up and what started as a gentle drizzle soon turned out to be a heavy down pour. But nothing could stop the running legs and with the continued blessings of rain, thousands of legs ran, splashing the water. My wrongful apprehension that this would be a rain lashed marathon got shattered with the rains stopping in 15 minutes after a quick downpour.
As I slowly trotted on the course I took some time to gaze at the murky clouds engulfing the cityscape, the huge sea waves ready to swallow the runners. I thoroughly enjoyed the warm greetings of the bystanders, melted in the cheer and affection of the volunteers, and I sailed along as delightful as I can ever run, in my city, and in front of my friends.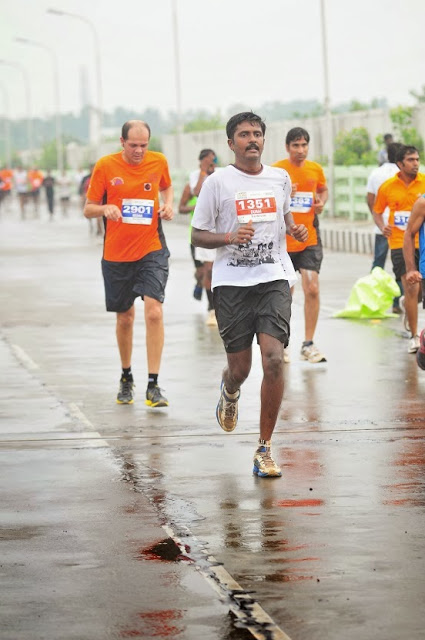 Pleasure to Start and Pain to End – My Body Talks:
The initial 20 kms I ran strong, it was a pleasure shouting out names of my friends and cheering fellow runners, beach roads were easily sailed across, flyovers were delightfully trotted over. As I started covering distances my novice legs started slowing down with pain and my body started seeming heavy for me to carry. For an amateur like me, I realised that only after 30 kms, the real marathon begins with all the challenging physical conditions beginning to crop up, with my body begging for rest and my mind pushing me to forge ahead until I reach the finishing line. This mixed feeling of pleasure and pain has made me self realise that for this indomitable spirit that originates within me after 30 kms of being on the toes, I would want to continue with running marathons.
Gigantic Banyan Trees, Grazing Black Bucks – Mesmerizing IIT:
Drenched with early morning rains, grown with ancient banyan trees, filled with fresh greenery and hosting beautiful rare deers, IIT campus was teeming with enormous energy and freshness, perfect for the last 18 kms of the marathon.
When I now realise that deers were my running partners, melody of the birds gave me the necessary charm, gentle drizzles cooled the surging heat of my running body and I was completely drenched with the love and care of the volunteers, my emotions are uncontrollable.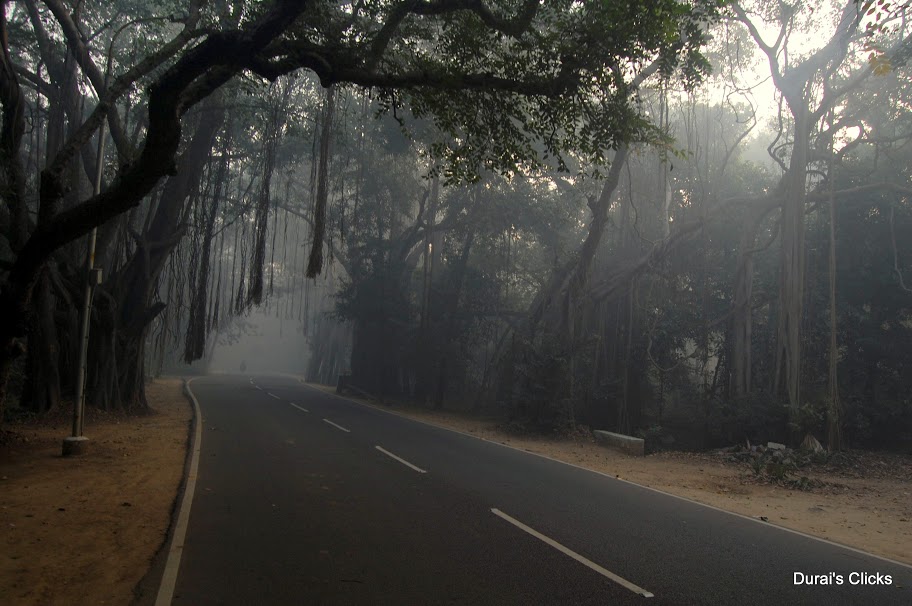 Last 5 minutes towards a sub 5 hours Marathon Finish:
I am definitely not a person who would want to race against time and all I would run for is to enjoy the sheer pleasure of being on my legs for the entire course. A volunteer standing at 41 kms mark told me that if I can run a little fast I could finish within 5 hours time. I wanted to give it a try and I increased my pace, with my legs straining in protest and my body crying out in pain. Nevertheless, I pushed myself for almost 500 mts and my legs co-operated very well. I realised that after 30 kms I have all along been mentally cheating myself, walking and running when I can push myself beyond the edge and comfortably run. It was my mind that was blocking me from the endless possibilities all the while.
"My Body was drenched in a pool of sweat,
Mind was drenched with unbound happiness,
Heart was drenched in a wave of bliss,
I self-realised that it's 'Runners High' @ 42.2kms"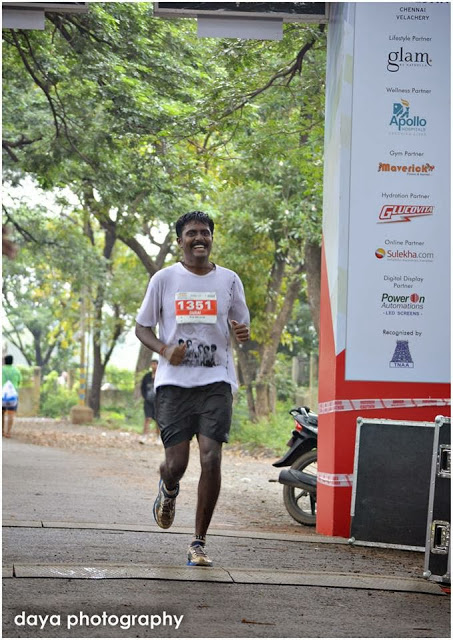 Running for a Cause – "Isha Vidhya:
While running gives me absolute pleasure and every time I hit the road or cross the 42.2 kms mark I feel that I have achieved something significant in life, there is another high, a far nobler and meaningful purpose to my running. Right from my first marathon I have made a mental 'sankalp' to run for "Isha Vidhya", expressing my gratitude for their noble cause, "Educating rural India". I feel there is no greater thing one can do in Indian society rather than educating the masses of rural India, since real empowerment of the poor and the neglected lies in education.
A Running Festival of never-before-seen magnitude in Chennai and I am blessed to have participated in it and successfully finished my 4th official Full Marathon with the support of my 'running' friends. Early morning drizzles, ocean of Runners, energetic volunteers, mesmerizing IIT campus all came together in a confluence to leave an indelible mark in my life and to make this day deep rooted in my heart. As long as my legs could move I would want to run in Chennai Marathons to come, for this event has kindled my unabated passion for Running.
Happy Running,
Durai Murugan