It was not a jeep jungle safari, nor was a trek inside core forest reserve. I was on an official trip to Hosur and it turned out to be the best elephant sighting of my life. Our work got over by 1 p.m at Hosur and we decided to visit nearby Anchetty village, which is famous for elephant sightings. I called up my friend in Denkanikottai (the main town nearby) to understand from where I can sight elephants. He said that this place is an elephant territory and if one is lucky he can see them even on roads. Further, he advised us to go to Samieri lake which is located in Aiyur forest and he said the chance of spotting elephants is very high during evening. Excitement picked up and I was praying that this evening I should get the darshan of jumbos.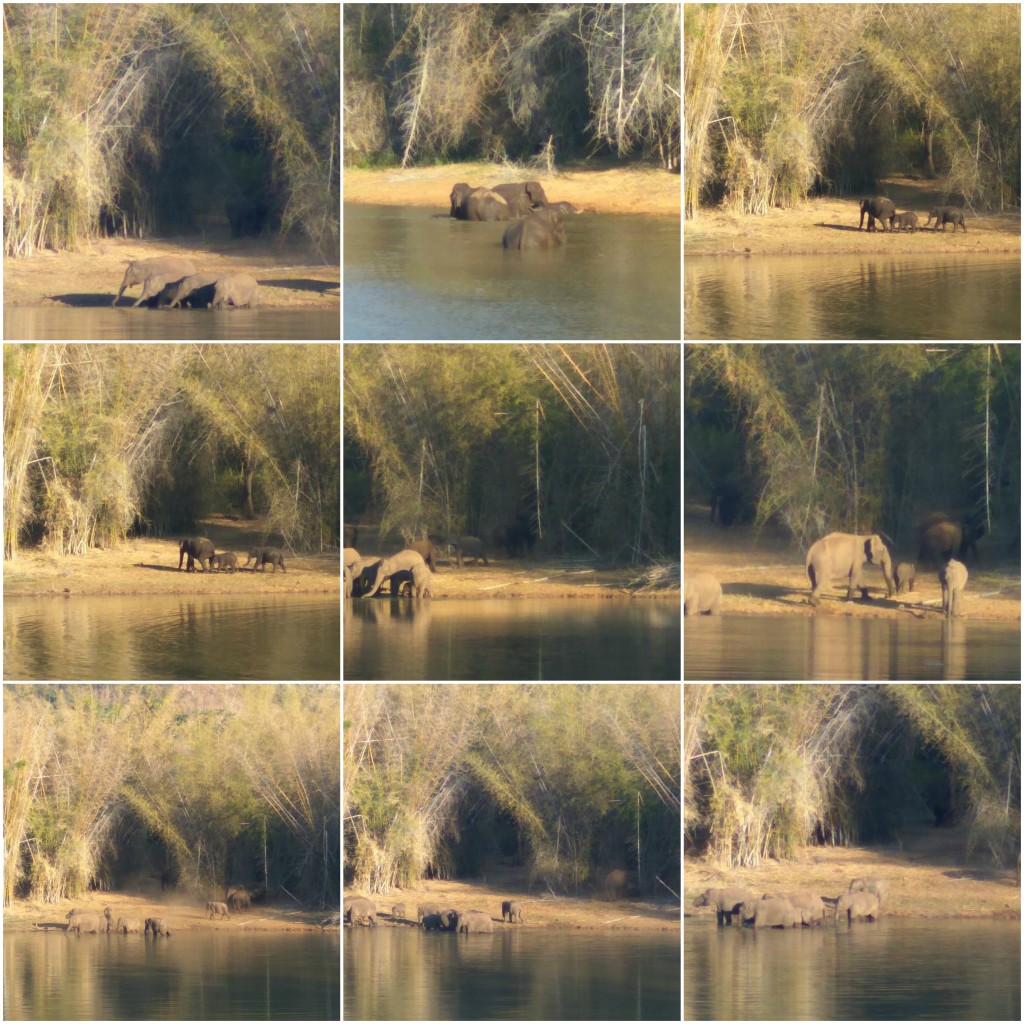 Samieri Lake – Elephant Waterhole:

We reached Denkanikottai and from there we drove to Aiyur forest. The moment we crossed the check post we were welcomed by thick bamboo trees on both sides of the road. The entire road was full of elephant dung and broken bamboo trees, and I was able to get a feel of elephants. My eagerness to spot elephant went uncontrolled and we slowly drove our car to Samieri lake.
Samieri lake is a small water body which is naturally fenced by thick bamboo forests with mountains as its back drop. There were about 5 elephant trails which connected this waterhole to the forest. Since it was a hot day and it hadn't rained there for many days, we realised that our chance of spotting elephants was very high.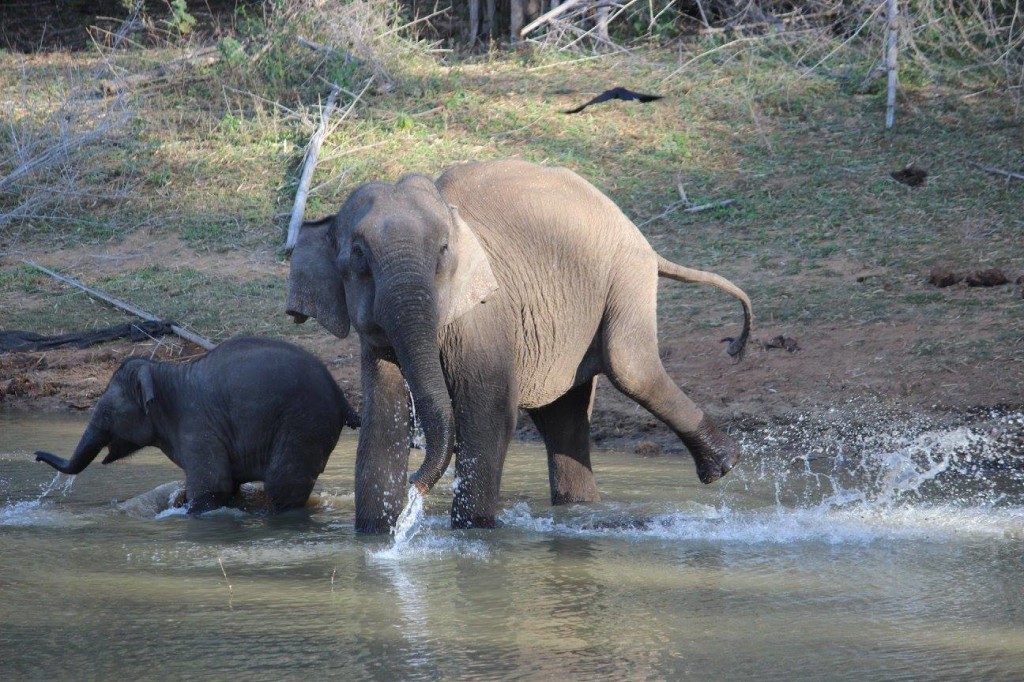 Jumbos Marching Into Samieri:
From nowhere two adult elephants and their offspring a cute little one (not more than one year old) walked towards the lake and slowly they entered inside the waters and quenched their thirst. Few minutes later another family of 4 elephants including a just born babe (forest guard said it is just three days old) stepped inside the lake and started playing. I literally had no idea what was unfolding in front of me. Even before I could melt and confess that this is the best moment in my life, I saw a herd of 5 elephants entering inside the lake from my left and another 5 elephants entering inside the lake from my right side. I literally had goose bumps and confessed to myself that this is one of the best moment in my life. It was not alone the number of elephants which kept increasing but it was also my unbound joy, witnessing about 20 elephants together was nothing but a god sent gift to me.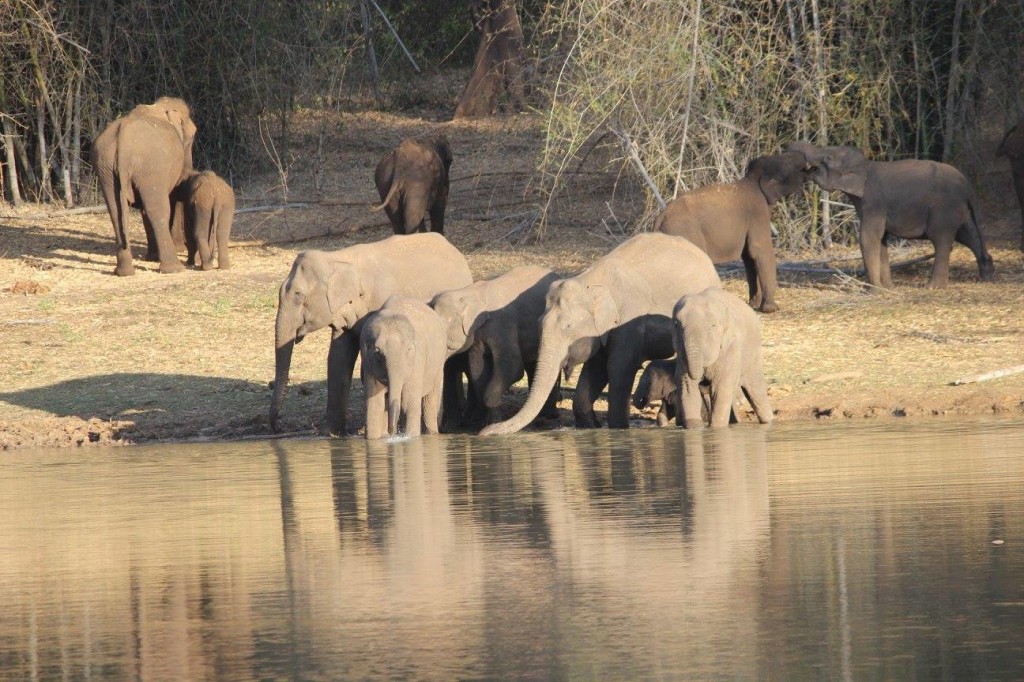 The elephants played with each other, twisted and rolled their trunks with one another, sprinkled sand on themselves until a thundering roar came inside the bamboo forest. The entire place was fear-stricken and I was eagerly waiting what would come out from those bamboo forest. To my delight it was an adult tusker which came running towards the herd with its trunk held high and trumpeting as loud as even a person in the sky could hear. My wrong anticipation that it might hurt the other elephants short-lived and it slowly started rolling its trunk with other elephants in the herd.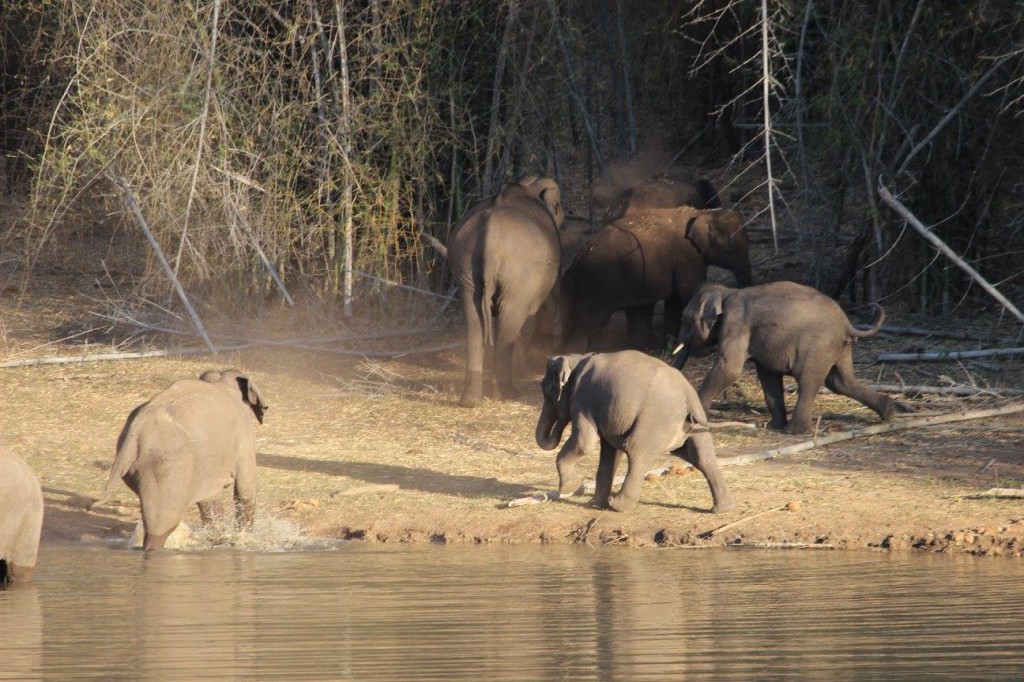 You can watch this short video to get a real glimpse. https://www.youtube.com/watch?v=r972ALqaQUs&feature=youtu.be
I was extremely delighted to witness this spectacular scene with 20 plus elephants on one side of the lake and me on this side of the lake admiring them. This scene continued for 1.5 hour and I had no clue how this time went. Some elephants were taking a dip inside the pool, some were splashing water against one another, few were busy mud-slugging. For me, it was like a wildlife paradise unfolding in front of my eyes, I was completely spell-bound and awe-struck and for the first time in my life I witnessed 20 plus elephants together in the wild.
Durai Murugan