I first got influenced into long distance running because of my friends who kept sharing their experiences on social media. Some said distance running has given "new meaning to their life", some said "they are able to test their physical and mental limits", some experienced "improved health conditions" and some felt it's a great way to make "new friends". But one thing I noticed which was very common with all of them was that they were experiencing an uncommon 'adrenaline rush because of the high intensity which their body and mind is put to'.
This high degree of intensity is what which initially attracted me towards long distance running in 2012. I initially started running alone after my office hours from light house to high court at Marina beach. I couldn't run the entire distance, I used to walk for some time, run for some time before I got the required qualities to complete 10kms continuous running.  It was September 2012 and for the first time in Chennai our very own Chennai Runners club had made announcements about conducting a marathon for our Chennai city. Now I didn't want to let go this wonderful opportunity of running my first full marathon in the city I was born and brought up.
I trained religiously, I was prepared for the event and I was eagerly looking forward for my first marathon. At this juncture I felt that there was a BIG VOID and I miserably failed in my attempts to find the reason for this blankness. I didn't have an answer why should I run this marathon. That's when I was influenced with the idea of running for a good cause, without no second thoughts 'ISHA VIDHYA' popped in my mind and I decided to support their cause 'educating rural India'. I strongly believed that if there is going to be any phenomenal empowerment in Indian society it can only happen through educating the rural Indian masses which was precisely Isha Vidhya was doing.
In 2012 the running expo happened at Express Avenue and I met an Isha volunteer who handed me a good cotton t-shirt and requested me to run with this t-shirt to support Isha Vidhya. My running friends cautioned me that one should not wear a cotton t-shirt to run marathons. But I just had two things in my mind one is crossing the finish line which was 42.195 kms away and secondly to support Isha Vidhya. I ran my first full marathon proudly sporting a cotton t-shirt of Isha Vidhya and successfully completed with lot of happiness.
At the end of the marathon I realised that my running had a new meaning, life and real purpose which was educating rural Indian students. I also had two delights – firstly the delight of completing my first full marathon, and secondly the delight of supporting a meaningful cause – Isha Vidhya.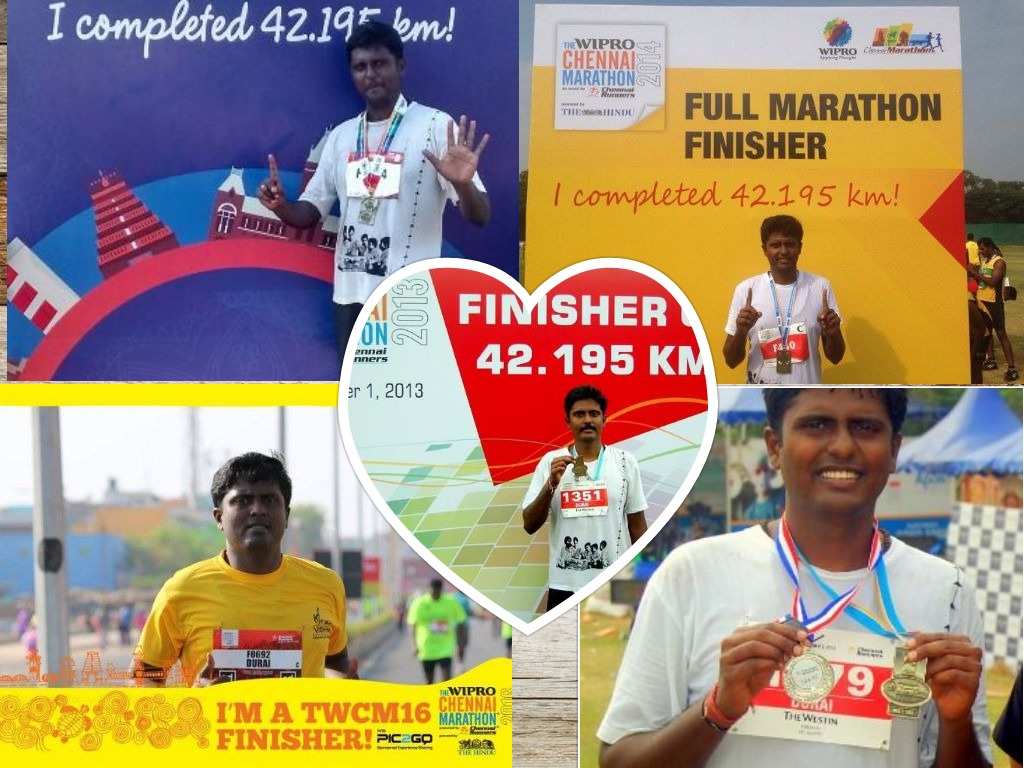 Running for a cause charges up the whole marathon atmosphere. It is quite extraordinary that we are coming together for the common good in these events, and that is quite unique. It may be a simple thing like carrying placards or pushing body and mind to running for that personal best timing – all become worth it in this kind of space. I feel good that the charity I supported for the past four years has been recognized as the official charity partner for TWCM this year and more than 2000 volunteers ran spreading awareness about Isha Vidhya.
My story of 19 full marathons: what started as a solo journey for improved health had a reach beyond my personal goals. Every race promoted a valuable cause, and every race was put into perspective. I was running for something greater than myself. I was running to raise awareness for Isha Vidhya. These races became more than just races, they became causes and incentives to do my best for others.
Happy running,
Durai Murugan