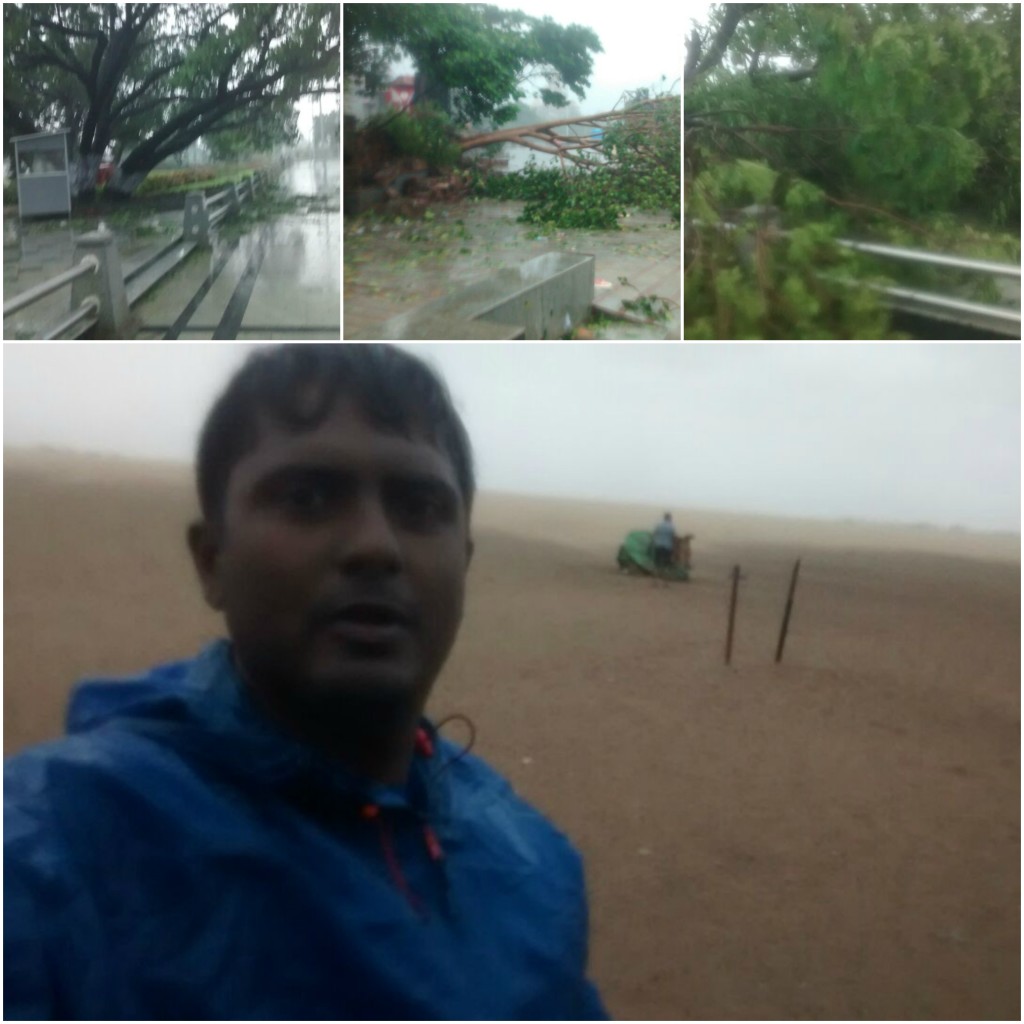 City of Chennai was put to red alert on 12.12.2016 and it was cautioned that the wind speed would rise upto 120 kms per hour as cyclone 'Varadh' would make its landfall at its coast. Schools, colleges were declared holiday and hardly there were anyone on the streets. The memory of last year floods in December was still very fresh in our memory that a mere mention of cyclone didn't take much time to strike fear chords.
Dark clouds hanging from the sky, powerful winds breaking down whatever standing on its way, and heavy rains started flooding the streets. It was around 11.30 a.m and it appeared as if it was mid night and Chennai City was all set to witness the worst cyclone it has hitherto experienced.
I decided to experience cyclone Varadh first hand and I choose to run 10 kms from light house to High Court at Marina beach on a 5 kms stretch were you can first hand feel the force of powerful winds doing what it is well known for – disaster and destruction.
My run from light house was inaugurated with a heavy downpour and even before I could take few steps I was completely drenched, the high velocity winds threatened me. Even before I could run few hundred meters I saw synthetic roof-top of a bus stand flying in air and approaching me, I should thank my reflex skills of my body that I dug to escape from it.
I have ran and trekked in heavy downpours in the hills and forests but I never felt pain because of rain drops, first time in my life that rain drops felt awful, every drop on my skin was painfully and I felt as if someone was poking hundreds of needle into my skin, thanks to the super speed winds.
It appeared to me that the trees planted along coast started violently dancing to the tunes of cyclone Varadh that most of the trees banged their branches to the ground, it was agonizing to witness trees fall in front of my eyes and tree branches were all in the air. Wherever I turn around all I saw was only fallen trees and thrown away broken branches but still Varadh did not reduce its force.
My running legs had a different tale to tell about cyclone Varadh, it ran at the same place, backward, sideward, it slipped and dropped into pit holes. My regular route for running and an easy flat course became a challenging and arduous trek.
All along my life, I have never seen wet sea sand rise upto to 10 feet high and fly in the air, cyclone Varadh orchestrated it for me. I witnessed sea sand rising up on the air and flying towards the ocean, my adventure to venture inside the sand storm was rewarded only with sand storms hitting me hard, I had to lie down for some time until its force could drop for me to escape to a safer place.
Running inside the eye of Varadh was indeed once-in-a-life-time opportunity and an experience of a lifetime. Although my heart goes to thousands of trees it uprooted and lakhs of tree branches it broke, nevertheless it left behind one of the most indelible experience in my heart, the tales of which I will speak for a long time.
Durai Murugan