There are two things which my mind always fight when I take up something 'out of the box'. My right mind which is always optimistic tells me 'you can do it' and my left mind which is extra cautious, little afraid of new adventures cautions me 'no – this won't suit you / you can't do it'. My right mind and left mind are enemies for life and they battle day-in and day-out. My heart is very adventurous and it loves challenges and it mostly syncs with my right mind.
It was early 2012, I started taking up recreational long distance running seriously, I decided to run my first full marathon (42.2kms) a distance which I have never dreamt of running. My left mind cautioned me that it's painful and difficult but my right mind said it's possible and it shall be a life time experience. I decided to listen to my heart and I completed my full marathon successfully, it gave me more confidence and added flavor to my life. I started living my school days where I had a very successful stint as a volley ball player. My adventurous heart always loved sports and outdoors as it enjoyed the sheer outpouring of adrenaline rush.
My interest for sports took me to TRIATHLON, my crazy left mind started panicking again while my right mind was gearing up for the new adventure and to strike a balance between my right and left mind I required a fresh bunch of mediation skill.
Swimming in open waters, cycling long distances and running after being completely drained, were fresh bunch of challenges. My right mind was perplexed about how to train, afraid if I will injure myself. But my right mind was confident it said start your training well, it said motivate yourself. My right mind said that left mind is 'merely a shadow of fear, it is just a state of mind' which will restrict you within boundaries. At this time I decided to deeply bury the thoughts, limitations, fear which was generated through my left mind. I decided to follow my heart, and right mind, I completed my first half iron distance triathlon (1.9kms swimming, 90kms cycling and 21.1kms running) in the open waters of Nagalapuram dam.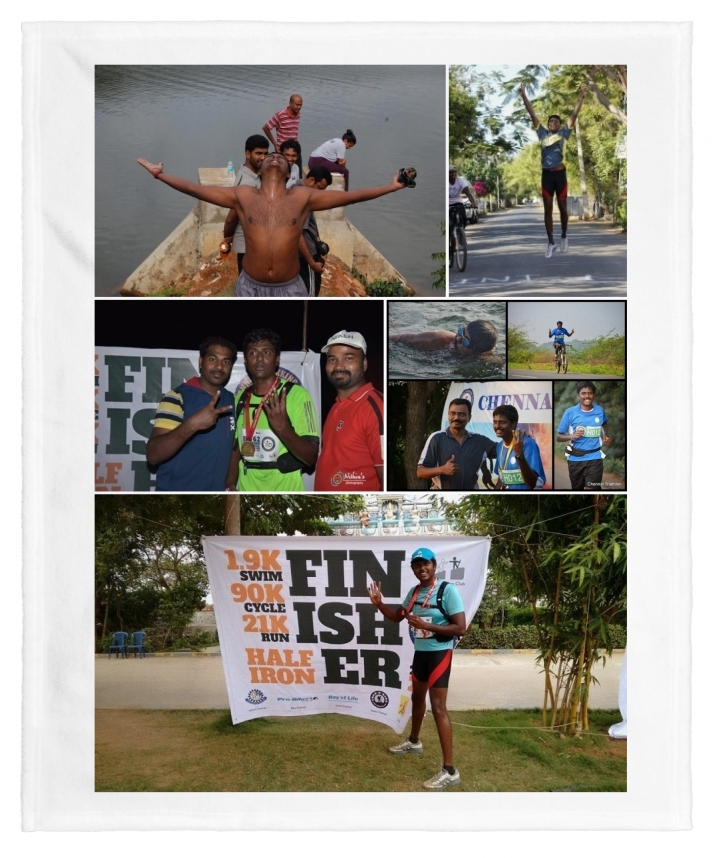 My journey towards hunting for more half iron distance triathlons continued and I quickly completed 4 half iron triathlons and I had a break for more than 1 year due to various reasons and I found it more difficult to come out of my comfort zone, it was tougher this time than the initial days of my training for triathlon. This time half iron triathlon was scheduled on 17th December, 2016 and I was under trained. My left mind freaked and said with a very powerful voice 'don't attempt it', my right mind said 'your muscles have built a good memory, they are used to triathlon, make an attempt'. I decided to follow my right mind, I attempted and completed my fifth half iron triathlon successfully with no much difficulties.
Everyone have this war happening inside their mind, if we should 'close our circle' to experience sports, outdoors? we are struck within our own limitations in mind. Completing an event or not is a different story but coming out of our comfort zone, training for an event and making an attempt is just a 'state of mind'. I was arrested by my own limitations, I was confined to my thoughts, I was imprisoned within my boundaries until I realised that limitations, boundaries, negative thoughts are all 'Just a State of Mind'.
Durai Murugan