Pleasure in the lonely trail excites me,
Peace in the thick green cover amuses my heart,
Melody of the birds refreshes my mind,
Freezing water from the streams quenches my thirst,
Cold and fresh mountain breeze destroys my exhaustion,
Pain in my body flies away dipping in the cold-water well,
Trail running on the hills makes me humble and bonds me with nature.

 For an amateur runner like me running on the hills has always been a dream until I broke my mindset to pull up my socks to take on to the mountains to understand where I stand in terms of hill running. It was in Jawadhu hills a few months' back I started slowly trotting on the trails and I realized that running on the hills is something very unique and different from the regular city runs. I discovered that my body and mind perfectly blends with the mountains, the trees, the cold streams, and the chillness in the breeze. The satisfaction of completing a hill run is unparalleled.
I self-propelled my body and mind to take on to the hills through running. I slowly shattered my negative thinking that running on the hills is impossible. I now realize that hill running brings out the best from my body and mind. I feel very light, flexible, toned and more than anything very humble and grounded. Mountains teach you everything it's a treasure trove.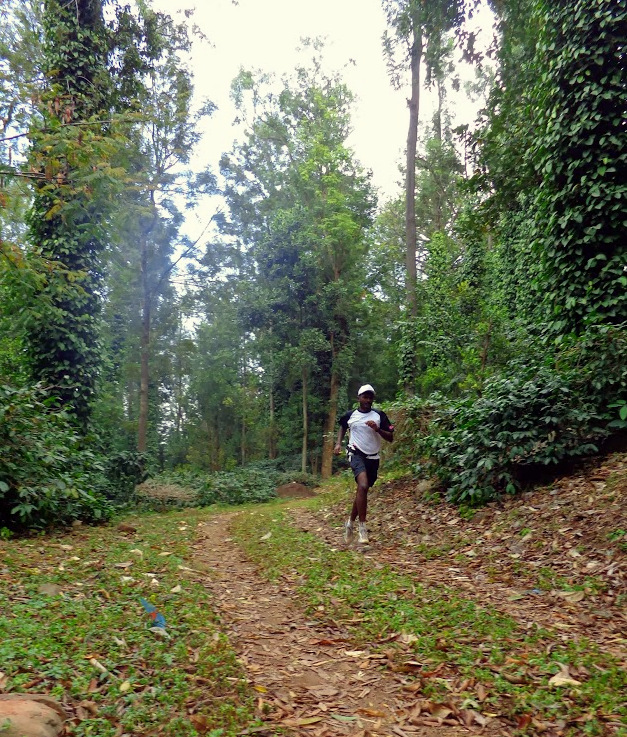 Submitting to the Mighty Mountains:
Long distance running as a healthy sport has deeply touched my soul these days. Every time I go on a long run, I love the sweat from my body; I treasure the feeling of being completely exhausted at the end of the run; I love the pain in my legs. All these feelings does not stop me rather they inspire me to take on to the roads and hit that lonely trail on that remote hill to run more and relish the freedom emanating from within.
After completing the 90 kms Yercaud hill run touching almost every nook and cranny of the hills through running. What initially started as a feat of accomplishment very soon vanished into thin air when I realized that I had to survive on its water and fruits for refreshment, every breath I intake is from this mountains, the beautiful birds, the lovely trees, the gorgeous peaks and all that I admired and hold in awe are from this mountain. After traversing almost the entire hills through running it has only increased my respect for nature and made me humble.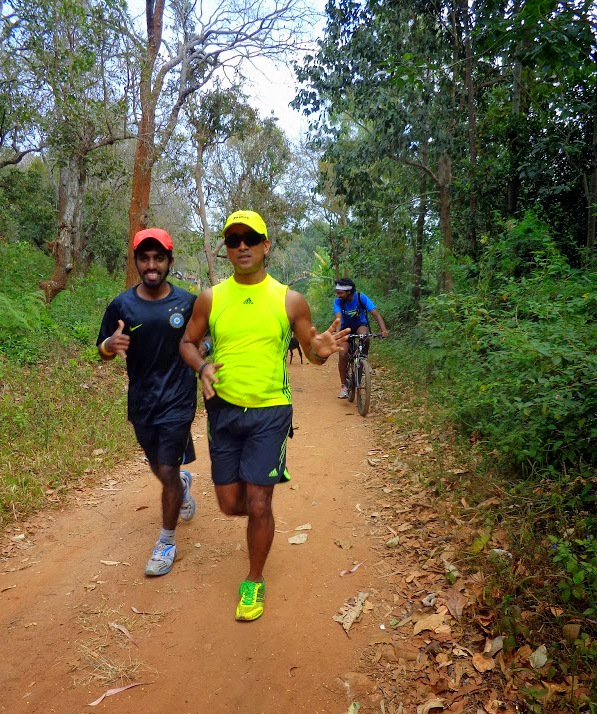 It's Not Just Running – Camping at Exotic locations is Exciting:
Our itinerary was not just restricted towards running. We camped inside the tents and slept inside sleeping bags experiencing the freezing night chillness, rode MTB downhill at high speed, had food at remote hill lock villages, played with village kids, enjoyed the fresh oranges from the orchards. If I were to only run for the sake of running, I would have miserably failed to enjoy beautiful nature and wonderful villagers of Yercaud.
Our refreshment points were remote villages on the hills; whatever they offered us were our refreshments. The villagers were very friendly and they offered us water without even asking for it. The small shops in the village appeased our hunger and their caring nature made us feel warm.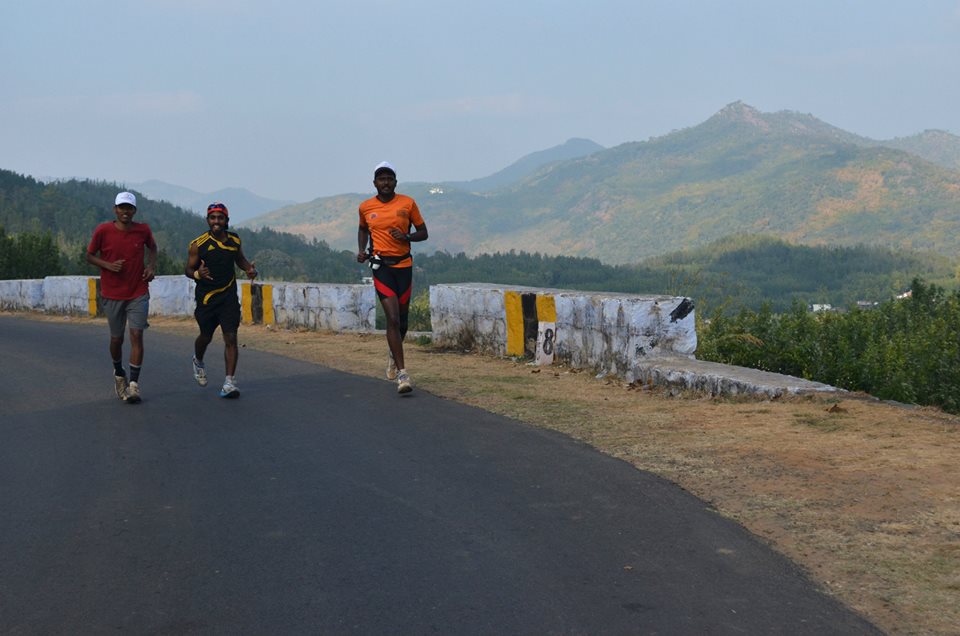 Solitary Running on Peaceful Ghat Roads:
At times I ran with the group and at times I ran alone. What I most cherished were the time when I was all alone on the ghat roads, I took time to enjoy the imposing views of the peaks, stood to listen to the melody of the bird songs, I cherished the chill breeze touching me gently, I relished the cold water bathe at the farm well. Running on the ridges observing the spectacular neighboring hills, valleys, peaks, streams, beautiful estates, curvy roads made me sated with delight and wonder.
 Although I was delighted during my solitary runs, my heart was blissful when it was with the camaraderie of the wonderful cyclists, and coupled with the highly energetic fellow runners all this made these two days running more special to me and without them I would have not completed this 90 kms ultra hill running.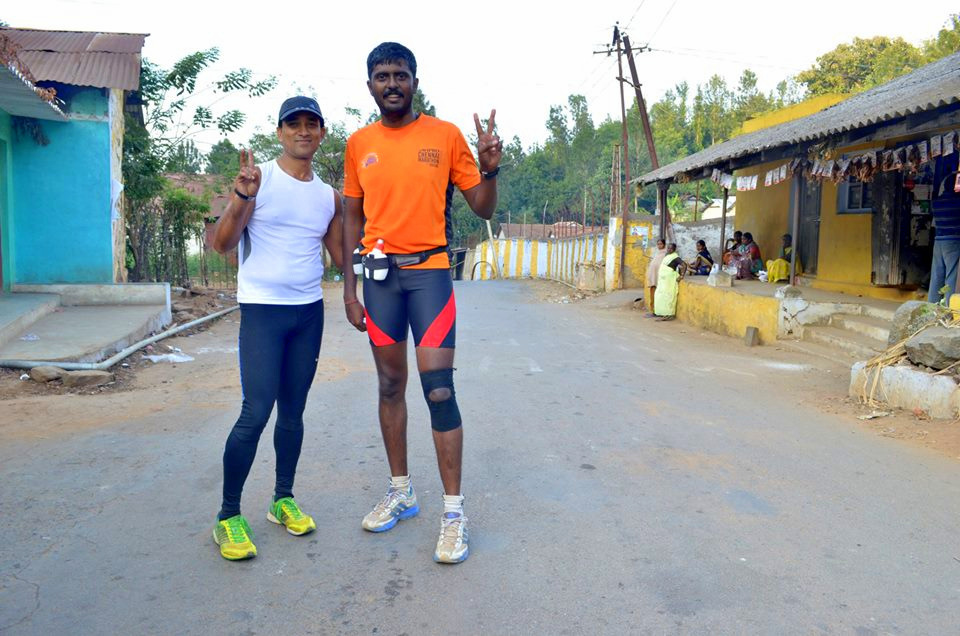 While my body was sweating out more than ever and my heart pounding faster than it would do normally, all that my mind and soul was relishing could not be just limited to the term "Runners high", it's a sensation of ecstasy at ease, its a feeling of freedom for free, it's a holy communion with nature. In simple, it's running at its purest form. You listen to your body; you listen to your heart, and see for yourself how your body, mind and heart syncs up with nature. That's trail running in short for me.
Happy Running
Durai Murugan